Merchandise
Prostate Merchandising Materials:




---
NOTE: Because of lack of interest since 1998, all of these materials have been discontinued except the Slide Guide and Booklet on Prostate Cancer. They can be ordered in bulk from Positive Promotions 800.635.2666 with your organizations logo or if you just want a few, order from us: booklet or slide guide.

HISTORY: While we seldom promote commercial ventures, we do want to encourage companies that give-away items like calendars and coffee cups to coincide connecting it to Prostate Cancer Awareness. Positive Promotions went out on a limb in 1998 to develop materials (some that can take company imprints and some that can't - golf tees, NFL football schedules) on prostate awareness. (See the items under the "Lenny" icons above.) They had done a great deal for breast cancer awareness and there is a market for that. But, men don't want to talk to men about prostate cancer and companies are afraid to promote it. I hope your company will step into the void and do everything possible, in every way possible to let every man know about prostate cancer and ever boy and young man know about testicular cancer. To this end, we have included a small photo of the promotional materials offered by Positive Promotions back in 1998 for your information.


Every Man Should Know About His Prostate: Booklet provided by Merck. Free with SASE. How to Order


Facts about Prostate Health slide guide. All men over the age of 50 should have an annual digital rectal exam (DRE) and a prostate specific antigen (PSA). Men with a family history of prostate cancer should check with their doctors about beginning annual exams at age 40. This guide provides facts about prostate cancer and symptoms. $3 each. How to Order

---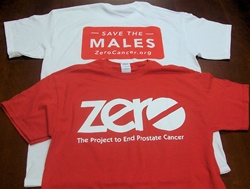 ZERO's "Save the Males" T-Shirts have arrived! Back by popular demand, ZERO — The Project to End Prostate Cancer has unveiled the newest version of its best selling T-Shirt.
The "Save the Males" T-Shirt is a great way to show your support for ending prostate cancer while at the same time adding a sense of humor to your day. Wear it around town, at your local Great Prostate Cancer Challenge® race, while training for a marathon, half marathon or triathlon through ZERO's DASH FOR DAD Endurance Team Program, or to your next doctor's appointment.
Available in both classic red and simple white, the "Save the Males" T-Shirt comes in sizes Small, Medium, Large, X-Large and XX-Large for only $20 a piece. To buy your shirt today, click here!
All proceeds from the sale of "Save the Males" T-Shirts benefit ZERO's early detection and educational programs. 91 cents of every dollars goes towards ZERO's programs.
Your purchase today truly does Save the Males!


Prostate Cancer Awareness Pins
---
These are still available. Wearing them helps raise awareness about prostate cancer. They are green enamel pins in the shape of ribbons (borrowed from the pink AIDS awareness pins) available for $3 from the American Foundation for Urological Disease, 1.800.828.7866 at http://www.afud.org Wear the pin and when people ask what it's for, you can explain the need for early detection and more research funds to find a cure. Especially beneficial at Lion's or Elk's Lodge meetings, Veterans of Foriegn Wars, even the Chamber of Commerce. Don't lose a friend because you were too embarrassed to talk about it!


Prostate Cancer Awareness Stamp Introduced - Out Of Print

---
To help raise awareness about prostate cancer and its often devastating effect on the health of many men in America, the U.S. Postal Service issued a commemorative postage stamp. "We believe this stamp will go a long way in helping spread the word among men young and old about how important it is for them to discuss this deadly disease with their healthcare provider," said Dr. Virginia Noelke, professor of history at Angelo State University in San Angelo, Texas, and chair of the Citizens' Stamp Advisory Committee. Note: It was removed from sale September 30, 2001. (See related story.)

Prostate cancer is the second leading cause of cancer deaths in men (after lung cancer) and, excluding skin cancer, is the most common cancer in American men. Early prostate cancer often does not cause symptoms.

Designed by Michael Cronan of San Francisco, Calif., the Prostate Cancer Awareness stamp design incorporates the male symbol. The words "Prostate Cancer Awareness" are stacked at the top of the vertically formatted stamp, "USA 33" appears turned 90 degrees counterclockwise in the bottom-left corner, and stacked in a box positioned in the bottom-right corner of the design are the words "Annual Checkups and Tests."

While the Postal Service does not endorse any particular testing method, the stamp encourages men who schedule annual physicals or checkups to discuss testing options with their healthcare provider.

For more information on stamps, visit the Postal Service Web site at www.usps.com

and click "Stamps." To order stamps or stamp products, go directly to www.stampsonline.com

Technical Details: Issue: Prostate Cancer Awareness; Item Number: 448200; Denomination & Type of Issue: 33-cent Commemorative; Stamps per Pane/Coil: 20; Print Quantity: 78.1 million stamps; Gum Type: Self-adhesive.

Prostate Cancer Awareness Stamp Taken Off the Market

---
On Monday, July 16, 2001 there were 24.3 million Prostate Cancer Awareness stamps in inventory (of 78.1 million originally issued May 28, 1999.) On September 30, 2001, it was withdrawn from sale through the USA Philatelic mail order catalog and no longer available. Some of the larger post offices that have Philatelic Centers for collectors may still have a very limited inventory of this stamp. Of course, non-postal stamp dealers and collectors will have some for sale.

Here's the latest information on sales of the Breast Cancer Research semipostal stamp. As of June 15, 2001, the U.S Postal Service sold 305 million of the stamps (40 cents each for a total gross revenue of $122 million), raising $21 million for research. 415 million total stamps have been printed. The stamp was first issued on July 29, 1998.

Source: Don Smeraldi, U.S. Postal Service, 202.268.6524

---
We cannot accept orders over the Internet. Send a check or postal money order for the complete amount made out to: The National Men's Resource Center, PO Box 1080-W, Brookings, OR 07415-0024. Ask about quantity discounts for 50 or more.
---


pcaw Directory
Contact Us
A service of The National Men's Resource Center™
©1996-2023, The National Men's Resource Center
http://www.pcaw.org